INTRODUCING THE FALL 2023 TEEN SUMMIT
Stigma: 
Overcoming Discrimination and Supporting Healing
WELCOME! We are excited about your interest in participating in NCCJ's 2023 Teen Summit! Teen Summit provides high school students with resources and skills that they can utilize and prepare them to make changes in their schools and communities around topics of diversity, equity, and inclusion; each year the theme of the Teen Summit addresses a new subject pertaining to diversity, equity, and inclusion. This year, the theme is 'Stigma: Overcoming Discrimination and Supporting Healing'. Teen Summit will host 20 local high schools.
NCCJ TEEN SUMMIT
READY TO LEARN MORE?

Schools
Learn more about bringing your school to the Teen Summit or register!
SCHOOL ADVISOR REGISTRATION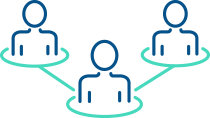 MARKETING/ MEDIA
For more information on marketing the Teen Summit or for media requests
MEDIA AND MARKETING

STUDENTS
Are you a student or community member wanting to share info about teen summit with your school?
CONTACT US
---
---
The NCCJ Teen Summit is made possible through support from The Allstate Foundation. The Allstate Foundation champions inclusive leadership, social emotional learning (SEL) and service-learning programs to empower youth to build the just, equitable and healthy world we all deserve. In partnership with nonprofit organizations, the Foundation creates a continuum of this programming to support youth in school, after school, at home and in their communities.

---
MAKING OUR COMMUNITY MORE INCLUSIVE IS NO EASY TASK
ARE YOU READY TO COLLABORATE WITH US?