WE OFFER
DIVERSITY EDUCATION & CONSULTATION TO

BUSINESSES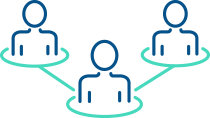 ORGANIZATIONS

INDIVIDUALS
WHO WE ARE
TRANSFORMING OUR
COMMUNITY SINCE 1978
Since our founding in 1978, we have been successfully opposing bias, bigotry and discrimination wherever it occurs, including neighborhoods, schools, pulpits and workplaces throughout the region.
ABOUT US
Today, NCCJ focuses on strategies to empower current and future leaders for community transformation. To that end, we concentrate on three key areas:
Workplace Diversity and Inclusion
Youth Leadership Development
Community Advocacy and Action
OUR SERVICES
"NCCJ's structured discussions and activities offered new perspectives on race and environment."
MAKING OUR COMMUNITY MORE INCLUSIVE IS NO EASY TASK
ARE YOU READY TO COLLABORATE WITH US?